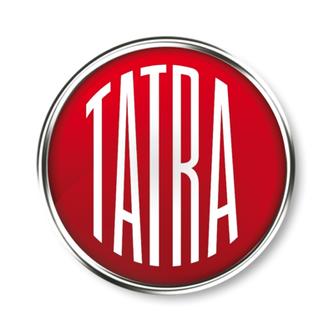 Tatra is a vehicle manufacturer in Kopřivnice, Czech Republic. The company was founded in 1850 as Schustala & Company later renamed Nesselsdorfer Wagenbau-Fabriksgesellschaft, a wagon and carriage manufacturer, and in 1897 produced the first motor car in central Europe, and one of the first car in world, the Präsident automobil. In 1918, it changed its name to Kopřivnická vozovka a.s. and, in 1919, started to use the Tatra badge named after the nearby Tatra mountains in Slovakia. Tatra is the third oldest car maker in the world after Daimler and Peugeot.[1] During World War II Tatra was instrumental in the production of trucks, and tank engines for the German war effort.
Early years
Ignác Šustala (1822–1891), founder of the company in Kopřivnice, Moravia, started the production of horse-drawn vehicles in 1850. In 1891 he branched out into railroad car manufacture, naming the company Nesselsdorfer Wagenbau-Fabriksgesellschaft, and employed Hugo Fischer von Roeslerstamm as technical director in 1890. After the death of Šustala, von Roeslerstamm took over running the company and in 1897 he bought a Benz automobile. Using this for inspiration, the company made its first car, the Präsident, which was exhibited in 1897 in Vienna. Orders were obtained for more cars and under the direction of engineers Hans Ledwinka and Edmund Rumpler, ten improved cars were made.
The first car to be totally designed by Ledwinka came in 1900 with the Type A with rear-mounted 2714 cc engine and top speed of 40 kilometres per hour (25 mph), 22 were made. This was followed by the Type B with central engine in 1902 but then Ledwinka left the company to concentrate on steam engine development. He returned in 1905 and designed a completely new car, the Type S with 3308 cc 4-cylinder engine. Production was badly hit in 1912 with a 23-week strike and Hugo Fischer von Roslerstam left the company.
Tatra concept
After World War I Nesselsdorfer Wagenbau was renamed Kopřivnická vozovka, and in 1919 the name Tatra was given to the car range. Leopold Pasching took over control and in 1921 Hans Ledwinka returned again to develop the revolutionary Tatra 11.
The new car, launched in 1923 featured a rigid backbone tube with swinging semi-axles at the rear giving independent suspension. The engine, front-mounted, was an air-cooled two-cylinder unit of 1056 cc. The Tatra 11 was replaced in 1926 by the similar Tatra 12 which had four-wheel brakes. A further development was the 1926 Tatra 17 with a 1,930 cc water-cooled six- cylinder engine and fully independent suspension. In 1927 the company was renamed Závody Ringhoffer-Tatra a.s..
Prewar streamliners
Tatra's specialty was luxury cars of a technically advanced nature, going from aircooled flat-twins to fours and sixes, culminating (briefly) with the OHC 6 litre V12 in 1931. In the 1930s, under Austrian engineer Hans Ledwinka, his son Erich and German engineer Erich Übelacker and protected by a high tariff and absence of foreign assemblers, Tatra then began building advanced, streamlined cars after obtaining licences from Paul Jaray, which started in 1934 with the large Tatra T77, the world's first production aerodynamic car. The average drag coefficient of a 1:5 model of fastback Tatra T77 was recorded as 0.2455. It featured (as did almost all subsequent big Tatras) a rear-mounted, air-cooled V8 engine, which was in technical terms very sophisticated for the time.
Tatra and the Volkswagen Beetle
Both Hitler and Porsche were influenced by the Tatras. Hitler was a keen automotive enthusiast, and had ridden in Tatras during political tours of Czechoslovakia. He had also dined numerous times with Ledwinka. After one of these dinners Hitler remarked to Porsche, "This is the car for my roads". From 1933 onwards, Ledwinka and Porsche met regularly to discuss their designs, and Porsche admitted "Well, sometimes I looked over his shoulder and sometimes he looked over mine" while designing the Volkswagen. There is no doubt that the Beetle bore a striking resemblance to the Tatras, particularly the Tatra V570. The Tatra T97 of 1936 had a rear-located, rear-wheel drive, air-cooled four-cylinder boxer engine accommodating four passengers and providing luggage storage under the front bonnet and behind the rear seat. Among other similarities also found in the Beetle is the central structural tunnel. Tatra launched a lawsuit, but this was stopped when Germany invaded Czechoslovakia. At the same time, Tatra was forced to stop producing the T97. The matter was re-opened after World War II and in 1961 Volkswagen paid Ringhoffer-Tatra 3,000,000 Deutsche Marks in an out of court settlement.
War years
After the 1938 invasion of Czechoslovakia by Nazi Germany, Tatras continued in production, largely because Germans liked the cars. Many German officers met their deaths driving heavy, rear-engined Tatras faster around corners than they could handle. At the time, as an anecdote, Tatra became known as the 'Czech Secret Weapon' for the scores of officers who died behind the wheel; at one point official orders were issued forbidding German officers from driving Tatras.
Postwar management
The factory was nationalised in 1945 almost three years before the Communist Party came to power and renamed to Tatra Národní Podnik. Although production of prewar models continued, a new model, the Tatra T600 Tatraplan was designed—the name celebrating the new Communist planned economy and the aeroplane inspiration (Colloq. Czech: eroplan). It went into production in 1948. In 1951, the state planning department decided that the Tatraplan should henceforth be built at the Skoda plant in Mladá Boleslav, leaving Tatra free to concentrate on trucks, buses and railway equipment.
The Tatra T603
A mere three years later, amid much dissatisfaction among officialdom about the poor-quality official cars imported from Russia, Tatra was again given permission to produce a luxury car, the Tatra T603. A fair successor to the prewar cars, it was also driven by a rear-mounted, air-cooled V8 and had the company's trademark aerodynamic styling. Uniquely, the Tatra T603 featured three headlights, and the first prototypes had a central rear stabilising fin, though this was lost for production. Fitted with almost American-style thick chrome bumpers with bullets (a.k.a. Dagmar bumpers). Almost entirely hand-built, Tatras were not for everybody; normal citizens could not buy them. They were reserved for Party elites, communist officials, factory presidents and other notables, as well as being exported to most other communist nations as official cars. Even Fidel Castro had a white Tatra T603, custom-fitted with air conditioning.
Tatra T603s were built until 1975, a twenty-year era as one of Communism's finest cars. Numerous improvements were made over this time, but not all the new cars built in this period were actually new. When a new Tatra replaced an old, the old vehicle was returned to the factory. There, it was upgraded to modern condition, refinished, dubbed new and sent out again as a putatively new vehicle to replace another older Tatra. This makes it hard to trace the history of surviving vehicles.
1970s makeover—the Tatra T613
In 1968 a replacement was developed; the Tatra T613. It was styled by the Italian styling house of Vignale and was a more modern, less rounded shape. It was not until 1973 that any were actually produced by the factory, and volume production did not begin until the following year. Although the layout remained the same, the body was all new, as was the engine, being equipped with four overhead camshafts, a higher capacity (3495 cc) and an output close to 165 bhp (123 kW; 167 PS). In addition, it had been moved somewhat forward for improved balance. These cars were built in five series and several modifications until 1996. It is a tribute to Vignale's styling that they did not look dated until rather late in that time period. Over 11,000 cars were built, slowing to a trickle of but a few dozen a year towards the end as Tatras began to seem more and more outdated.
Trucks
1898–1914 Beginning
The first truck manufactured at Kopřivnice in 1898 was a flatbed with 2 liquid-cooled side-by-side-mounted two-cylinder Benz engines each at 2.7 L capacity with total power output of 8.8 kW (12 hp) placed after the rear axle and cargo capacity of 2.5 ton. The unique feature of the engines setup was that the engines could be operated sequentially depending on the load requirements. No 1 engine was started via a cranking handle and had a flywheel attached and No 2 engine without the flywheel was connected via a gear clutch and started by the first engine already running. The second truck manufactured was once again a flatbed R type of 2.5 ton cargo capacity build in 1909. Powered by liquid-cooled petrol four-cylinder engine of 4.1 L capacity and power output of 18.4 kW (25 hp) with the engine placed above front axle which is the conventional design to this day. The vehicle featured solid rubber tyres and semi-elliptic leaf spring suspension. In 1910 Tatra manufactured its first bus the Omnibus type SO with total production of 5 units.
1914–1922 Serial Production
The first true serial truck production at Tatra was instigated by the beginning of World War I. In the year 1914 there were only 2 trucks made, type T 14/40 HP, however by the 1915 end the production jumped to the total of 105 TL-2 units and the following year 1916 the numbers rose to total of 196 TL-2 and 30 TL-4 truthe time peaked in 1917 with 19 TL-2 and 303 TL-4 models, after that production declined and the similar amount of vehicles of one type manufactured in a year was not achieved or surpassed until 1936 with the T 27 model. Technically models TL-2 and TL-4 were almost identically designed, in fact TL-4 evolved from TL-2 where both had liquid-cooled OHC engines of max power output of 25.7 kW (35 PS; 34 hp). The TL-2 had a GVM 2,100 kg (4,630 lb) and 4,000 kg (8,818 lb) GCM, TL-4 had 2,700 kg (5,952 lb) GVM and 6,700 kg (14,771 lb) GCM respectively. Both types remained in production in small series until 1927. The TL-4 is considered the first truck to come out of NW (Nesselsdorfer Wagen-bau) to carry the name Tatra in 1919.
1923–1938 Tatra Concept
After the introduction of Tatra 11 and Tatra 12 cars with their distinctive backbone tube design and swing axles, Tatra introduced its first truck on the same basis, the light utility Tatra 13 powered by 2-cylinder air-cooled petrol engine with power output 8.8 kW (12 hp) and 1,000 kg (2,205 lb) cargo capacity. Further models followed and in 1926 T23 and T24 were introduced nicknamed "bulldogs" which could be considered Tatra's precursors to COE designed trucks. Improved version T13 introduced as T26 with more powerful 4-cylinder flat air-cooled engine and in six-wheeler chassis created capable offroad light utility truck which later evolved in to T72 model which was heavily used by Czechoslovakian army at the time and was also manufactured under license by the French company Lorraine-Dietrich. In 1933 Tatra build limited series of T25 heavy artillery hauler with 4 and 6-cylinder petrol engines. The most popular Tatra truck before World War II was type T27 powered by 4-cylinder petrol or diesel engines and remained in production for nearly 17 years (1930–1947) with total production of 7,620 units, by adding an extra axle to the rear the type T28 was created however, it was not successful and only limited production resulted in a mainly bus chassis. In the period from 1931 to 1938 Tatra also built a small utility truck based on the chassis from T30 named Tatra T43 which remain popular with small business owners. T72 model successfully continued the line to T82 built mainly for military in cargo and personnel transport between 1935 and 1938 and further to T92 and T93 built for Romanian army from 1938 to 1941 which were identical except T93 had also a driven front axle.
1939–1956 The Legend Born
Following the Nazi occupation of Czechoslovakia the production at Kopřivnice was annexed by Germans for the supply of trucks needed by Wehrmacht. Apart from the existing line up of T27, T92/92 a new heavy truck T81 commenced the production featuring liquid-cooled 12.5 L V8 diesel engine with power output 118 kW (160 PS; 158 hp) in 6×4 axle configuration. This vehicle evolved in 1942 into legendary T111 which continued its production until 1962 with the total of 33,690 unit made. T111 also featured Tatra's first air-cooled diesel engine a massive V12 originally designed for the armoured Sd Kfz. 234 Puma. In the latter stages of World War II Tatra was instrumental in the development of air-cooled diesel engines for German tanks. In late 1944 General Heinz Guderian ordered that production of the Type 38(t) Hetzer tank be modified to incorporate a Tatra Type 928 V-8 air-cooled diesel engine, though this order was delayed so production could continue uninterrupted. After the war T111 contributed heavily into rebuilding effort in Central and Eastern Europe and for its exploits at Far East of USSR had a memorial built at Magadan Siberia.
1957–1982 Eastern Block Finest
The decision to replace the reliable but ageing T111 was taken in 1952 based on central planning economy of socialist government where directive was made to Tatra N.P. that it should concentrate on the manufacture of 7 to 10 ton capacity commercial vehicles and in 1956 first T137 and T138 trucks were exhibited at Czechoslovak machinery expo in Brno. The production of T111 however continued alongside T138 series until 1962. T138 itself continued in production until 1969 when it was replaced by improved T148 where designers main target was increase in power output, reliability and product improvements.
In 1967 Tatra began production of one of its famous off-road trucks the T813 using its modular construction technology; the model incorporated the latest trends in commercial vehicle design such as cab-over-engine (COE) and wide profile tyres. It featured a new V12 engine and all military versions had a central tyre inflation/deflation system as standard equipment. The T813 was designed to tow loads up to 100 ton GCM and it was a familiar sight on the roads in Czechoslovakia hauling large often over-sized loads.
All items (37)
Community content is available under
CC-BY-SA
unless otherwise noted.