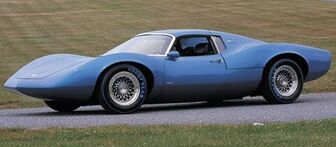 The Chevrolet Astro II was revealed at the 1968 New York Auto Show. It was less extreme in its styling than Chevrolet Astro I. The Astro II was designed primarily to showcase its rear-mounted powertrain application. Unlike the Astro I, Astro II had doors to access the passenger compartment. The rear compartment hatch still lifted up. This time, to provide access to the engine compartment. The front compartment was designed as a storage area.
The contours had been altered slightly to accommodate wide section tires, which promoted stability and handling and reflected the change in dimensions, which resulted from the adoption of a mid-wheel base location for the engine.
The air-cooled, single overhead camshaft six-cylinder engine used in the Astro I was replaced with a liquid-cooled 390 horsepower MK IV big block V8 engine, with power passing through a two speed torque converter from a Pontiac Tempest transaxle. Unlike many European mid-engine vehicles, the Astro II carried its radiator at the rear; a location intended to minimize the amount of plumbing required and to keep the hot water lines from passing through the passenger compartment. This arrangement freed the front compartment for the storage of luggage.
Inside, driver and passenger were snug, surrounded by well-padded surfaces, which provided a maximum of lateral support, advantageous because of the high maneuverability of this vehicle. The instrumentation was normal with 270 degrees sweep speedometer and an 8,000-RPM tachometer. The conventional complement of gauges included water temperature, air pressure, ammeter, and gasoline gauge. A sliding transmission selector replaces the usual lever.
Lead engineer Zora Arkus-Duntov and GM styling chief Bill Mitchell were hoping Astro II would be the concept for the next generation Corvette, but the GM management figured the public was not ready for a mid-engine car.
The Astro II is currently part of the GM Heritage Center Collection.