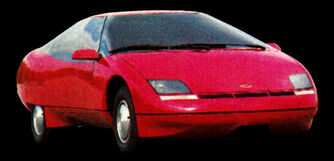 The
Chevrolet Citation IV
was a concept car from 1984.
Chevrolet introduced its first front-wheel-drive car under the Citation name in 1979, as a 1980 model. Initially, it was a tremendous sales success but within a few years the segment had grown more competitive and more crowded with rivals from other countries. Chevrolet engineers showed off their rendition of what a future Citation IV might be like. Despite the demise of the production Citation, some of the Citation IV concept's visionary ideas carried over to other production vehicles. However, before delving deep into specifics, please allow me to set the tone so we can better appreciate the decades-old technology.
In the early eighties, Chevrolet engineers had estimated that the aerodynamic drag of contemporary cars, traveling at a speed of 50 mph, constituted 50% of the vehicle's rolling resistance. Despite technological advances, it was almost as if the engineers and designers of that generation had given in to the wind.
The Citation IV didn't show up on the concept scene entirely fresh. In fact, it is essentially a functioning clone of one its progenitors. Its roots are arguably grounded in at least three concept cars that preceded it, all of which were released not with Chevrolet bowties but rather the General Motors name. Starting in 1981, the "Aero X" was introduced, followed by the "Aero 2000″ in 1982, and the "Aero 2002″ in 1983. Each of these concepts was a full-sized model but not drivable. Although the Citation IV's shape is merely hinted at in the four-door Aero X, and the two aren't likely to be confused, they do share certain traits. For example, flush glass and door handles, a grill-less front with under-the-bumper air inlets for engine cooling, and wheels positioned outward, flush with the body panels. Those forward-thinking features and more would be passed along to the Citation IV.
Community content is available under
CC-BY-SA
unless otherwise noted.