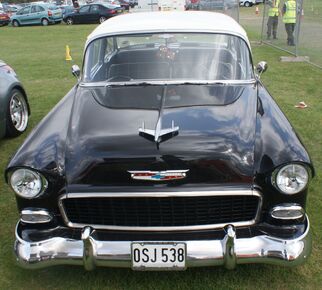 The
Chevrolet Delray
debuted in 1954 as an optional trim level on the mid-range 210 series of Chevrolet's full-size car. It later became a distinct series of its own.
Model history
1954-1957
The Delray was a two-door sedan featuring an upgraded vinyl upholstery with "waffle-like" pleating, color-keyed to the exterior, along with carpeting and other minor upgrades. The standard equipment was otherwise essentially similar to the regular 210 models. The Delray was offered until 1957, and proved reasonably popular.
1958
In 1958, the Delray became a distinct series of its own, taking the place of the 150. The Delray was Chevrolet's price-leading, no-frills model, with the more expensive models being the Biscayne, Bel Air and Impala (the last being a sub-model of the Bel Air).
Befitting its bottom-end status, the Delray had minimal interior and exterior trim and limited options. As such, this model was popular with fleet buyers such as police departments and businesses. However, private customers could also buy a Delray if low price, economy and basic all-around transportation with the convenience of a full-size automobile were the primary goals. Also, buyers could order any engine and transmission choice, including the 348 V8 and the fuel-injected 283 V8 engines.
Gallery
Community content is available under
CC-BY-SA
unless otherwise noted.