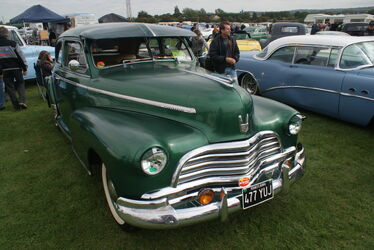 The Chevrolet Fleetmaster (Series DK) was a middle-class passenger car introduced in 1946. It was Chevrolet's top model and successor to the pre-war model, Chevrolet Special Deluxe. The 1947 variant was called the series 2100EK and the 1948 variant was known as the FK 2100.
The cars were equipped with a in-line six cylinder engine with a 3548cc displacement. This developed an output of 90bhp (66kW) at 3,300rpm. A fully synchronized, three-speed manual transmission with column shift was fitted and power was sent to the rear wheels.
Five body styles were available from the standard series. A two-door convertible and two-door sports coupe with five seats, two limousines with two or four-doors, each with six seats and a five-door station wagon with eight seats. There was also a "Woody" variant available.
In 1947, cars were fitted with a slightly modified radiator grille. In 1948, this was changed by inserting chromed T's again; additionally had the window chrome frame and the type designation Fleetmaster appeared at the back of the alligator hood on both sides.
Fleetline (1946-1948)
In 1949, the Deluxe Series 2100GK replaced the Fleetmaster.
In three years of production, 1,250,986 cars were made of which 574,992 were Fleetlines.
Gallery