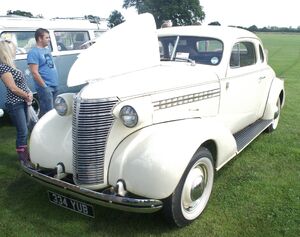 The Chevrolet Master Eagle, also referred to as simply the Chevrolet Master, was a mid-size passenger car built by the American automotive firm Chevrolet from 1933 to 1942, as a successor of the Confederate. From 1937, the better-equipped Chevrolet Master Deluxe and simpler Chevrolet Master 85 replaced the smaller Standard Six, and the Master began being marketed under those names.
History
Master Eagle Series CA (1933)
During December 1932, the Master Eagle Series CA, a larger successor of the Chevrolet Confederate, made its public debut. It rode on a wheelbase of 2974 mm and weighed between 1157 and 1282 kg. The vehicle was equipped with a 3179cc six-cylinder engine capable of generating 65 bhp (48 kW) of output at 2800 rpm. Like the Confederate, the Master Eagle featured a fully synchronized three-speed transmission. The bodies of the vehicles were rather aerodynamic, and had a rearwardly inclined V-shaped radiator grille. The ventilation shafts on both sides of the hood were narrower and not plated, but painted.
The Master Eagle's body was manufactured by the American coachbuilder Fisher Body, and the vehicle was offered in eight body styles: a two-door roadster, four-door phaeton, two-door convertible, two different two-door coupes, and three different sedans with two or four doors.
During its single year of production, 450,435 examples of the Master Eagle Series CA were manufactured.
Master Series DA (1934)
Stylistically, the Master Series DA, built in 1934, did not differ much from the precedent Series CA. However, the wheelbase was increased to 2845 mm and the vehicle now featured a more powerful 3389cc six-cylinder engine capable of delivering 80 bhp (59 kW) at 3300 rpm. The phaeton body style was no longer offered.
452,412 examples of Series DA were built.
Master Deluxe Series EA / FA and ED / FD (1935-1936)
The Chevrolet Master Deluxe, as the Master was now called, debuted in 1935. It featured "turret-top" all-steel bodies from Fisher Body. The roadster and convertible versions of the car were no longer offered, and two different coupes and four sedans took their place. Dubonnet-style front suspension was an innovation implemented on the Series EA Master Deluxe, but the old suspension system, which consisted of a rigid axle with semi-elliptic leaf springs, was available under the designation Series ED. The wheelbase was increased to 2870 mm.
The following year, the car received a new, more rounded radiator grille and standard steel wheels. These vehicles were marketed under the Series FA and Series FD designations. Engine output was decreased that year to 79 bhp.
Over a span of two years, 846,300 examples of the Master Deluxe were built.
Master series GB / HB, Master 85 Series JB and Master Deluxe Series GA / RA / JA (1937-1939)
Master 85 KB Series and Master Deluxe Series KH (1940)
Master Deluxe Series AG and BG (1941-1942)
Gallery
Community content is available under
CC-BY-SA
unless otherwise noted.