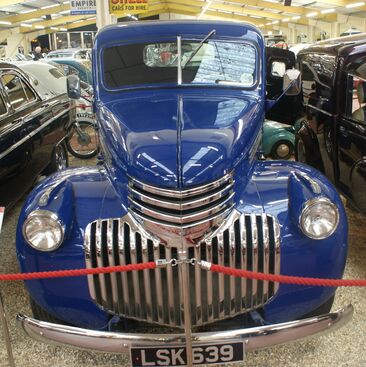 The Chevrolet AK Series Pickup brought to the General Motors light-truck lineup a new sense of strength in design and engineering.
Knowing that their products might soon be rolling into the battlefields of World War II probably encouraged truckmakers to design stronger, more versatile new models for the early 1940s.
The standard engine in the AK Serieswas the passenger car's six, with 216.5 cubic inches and 90 horsepower. Optional for heavy-duty use was the "Load Master" six: 235.5-cid, with 93 bhp and significantly more torque.
In addition to conventional three-speed synchromesh gearbox was the optional four-speed and a sliding-gear four-speed gearboxes. The last was mainly used for heavy-duty models.
AK Series had cargo beds which were heavy-gauge steel with a durable wood floor.
Bevelled grille bars were horizontal in the upper section, vertical below; headlamps sunk partly into the front fenders. All this added up to quite a streamlined Chevy, more modern looking than the T-series Dodge and the 1941 Ford, if not quite as sleek as the new Studebaker M-series or International's K-line.
A crank-open windshield and metal-framed door windows were new features, while the wide, comfortable seat used a latex-bound hair pad on coil springs.
AK Series Pickups came in 1/2- and 3/4-ton versions, with the latter on a longer 125-inch wheelbase. Boxes were heavy-gauge steel with a durable wooden floor, reinforced and protected with steel skid strips.
Advertisements and sales brochures noted that the tailgate was "heavily reinforced with box-type girders and channels, welded to form an all-steel unit of extraordinary strength and rigidity" and fitted with an "anti-rattle fastening."
Gallery