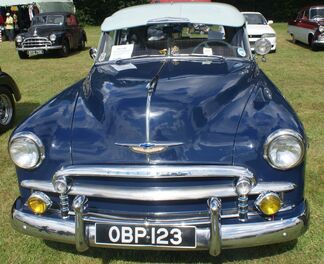 The
Chevrolet Styleline
was introduced late in the 1941 model year as a 4-door sedan. In 1942 a fastback 2-door coupe became an option. Production was indefinitely delayed in 1942 due to World War II, after 110,000 had been made total. In 1945, production resumed, and Chevrolet rebadged it, the Stylemaster. The Stylemaster ran until the 1948 model year.
Specifications
In the 1941/42 model years, the 216cid inline 6 "Blue Flame" engine was the only one offered. It produced 85 horsepower at 3300rpm. higher compression in 1945 bumped up the horsepower to 90. The transmission was a manual synchromesh 3 speed, with vacuum assisted shift. Third gear was direct, meaning the input and output are equal speeds.
Overdrive was a rare option. The brakes were hydraulic with all-wheel drums. The master cylinder was located beneath the driver. It had full instrumentation.
Style
The exterior sported smooth curves, and simple chrome trim.
The interior had cloth bench seats, and a metal dash. The radio was a simple mono vacuum tube type radio. On the left side of the radio,there was a knob labeled "T", and it operated the throttle, because during startup, it was hard to press both the starter pedal, and the accelerator, while keeping the clutch depressed. On the right side, was the choke lever.
Gallery