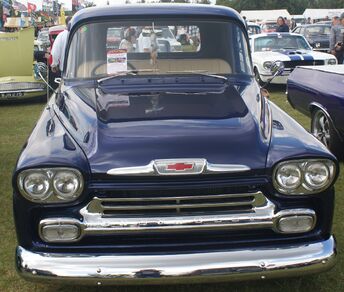 The successor to the venerable Advance Design trucks, the Task Force Series ran from late 1955 (second series) through 1959.
The 1955 second series offered standard options and add-ons such as 12-volt electrical systems, the first (the 265 cubic inch), and fleet-side 6-foot, 7-foot, and 8-foot-length beds.
Differences
1955 Second Series - First year for new body style. New "wrap-around" windshield - a truck industry first - and optional wrap-around rear window on Deluxe cabs. Power steering and power brakes are now available for the first time on GM trucks. Electrical system has been upgraded to 12 volts. Only year for 7 foot bed length. Fenders have single headlights and one-piece emblem is mounted below horizontal line on fender.
1956 - Wider hood emblem. Two-piece fender emblems are now mounted above horizontal fender line. Last year for egg crate grille.
1957 - Only year for more open grille. Hood is flatter with two spears on top, similar to the 1957 Bel Air. Fender emblems are still above fender line, but are now oval-shaped, as opposed to previous versions in script.
1958 - First year for fleetside bed, significant redesign of front end. All ⅓-ton trucks are now called Apaches. Truck now has four headlights instead of the previous two and features a shorter, wider grille running the width of the front end. Parking lights are now in the grille instead of being in the front of the fender and the hood is similar to 1955/1956 models, but with a flat "valley" in the middle. First year for factory-equipped air conditioning.
1959 - Minimal changes from 1958, the most apparent was a larger and more ornate hood emblem and redesigned badging on the fenders. The last year that the NAPCO (Northwestern Auto Parts Company) "Powr-Pak" four-wheel drive conversion could be factory ordered.
Gallery
Community content is available under
CC-BY-SA
unless otherwise noted.