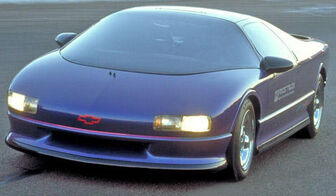 The
Chevrolet XT-2
was a concept car built in 1989.
The car is what many would imagine the love child between an El Camino and an IROC Camaro would look like. The XT-2 was fitted with a race trim V6 engine that produced 360 horses for quarter-mile acceleration in about 13 seconds flat and a 0-to-60 mph time of 6 seconds. The 4.5 litre V6 traces its lineage to a Trans-Am racing-type powerplant, and uses Chevy high-performance Bow Tie components, including the block and cylinder heads.
The function of the XT-2 went beyond most concept vehicles as it went on to see active service as a pace vehicle for the CART PPG Indy Car World Series. To handle the task, the pace truck was built from the ground up and is based on a tube frame with integral rollbars necessary rollover protection at racing speeds.
The huge sloping windshield which also serves as the hood, is the largest piece of windshield glass ever made by PPG and lifts on gas struts like a hatch. With the windshield raised, the top of the instrument panel also lifts up for access to the engine. The rear drivetrain is accessible through a removable bed floor.A special clear-coated PPG 3-step paint job with blue mica chips over a red base gives the smooth flanks an electric blue color in the sun that changes to purple in low light.
Community content is available under
CC-BY-SA
unless otherwise noted.