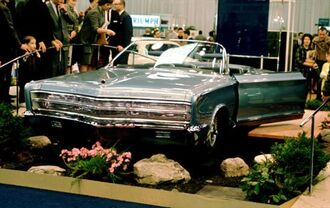 The
Chrysler 300X
is a concept car that was based on a modified 1966 Chrysler 300.
The prototype was filled with futuristic ideas in the cockpit. Replacing the conventional steering wheel were adjustable handgrips. Built-into the steering unit were push-button controls for lights, wipers, turn signals and door locks. Door handles were shaved, and a keypunch card was used to open the doors and start the ignition.
A truck-lid mounted TV camera and dash mounted monitor replaced the normal rearview mirrors. Rear seat passengers could watch a small television that stowed away when not in use. Famous custom car builder Gene Winfield is credited with constructing the 300X.