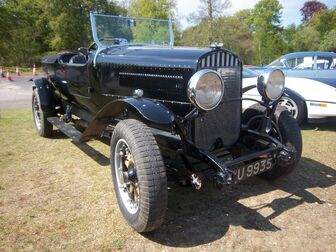 The Chrysler Series 75 was a car that was introduced in 1929, being made in Detroit U.S. It replaced the Series 72.
The car had a side-valve 6-cylinder engine with a displacement of 4078cc, which delivered 84bhp (62 kW). A single dry clutch and a three-speed transmission with floor shift delivered power to the rear wheels. As standard, all four wheels had hydraulic brakes. Twelve different body types were offered, they mainly matched those of the previous model. In 1930 the series was revised based on the Series 70.
Another model related to the Series 75 was the better-equipped Chrysler Series 77. The bodies had been slightly revised and reduced to only nine models. Compared with the 70 series, the 77 series was offered on a longer wheelbase, a four-speed transmission was available and an engine with a 4398cc displacement were offered. This larger engine had a maximum power output of 93bhp (68 kW).
A total of 48,850 copies Chrysler Series 75s were made whereas only 9,913 Series 77 were built. In 1931, the Series 77 was discontinued.