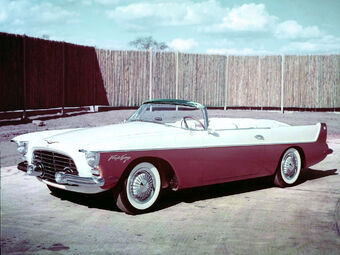 The Chrysler Flight Sweep I is a concept car from 1955.
The car is a convertible made by Ghia that was used to explore the idea of prominent tailfins, a styling theme the company pursued in its 1957 lineup.
The Flight Sweep I was a member of the commercially successful lineup of Forward Look cars. The Flight Sweep II was a hard-top version of the Flight Sweep I.
First shown to the public in 1955, the Flight Sweep I appeared in the Chrysler exhibit during the 1956 Chicago show. Standing only 53.6-inches tall, the 4-passenger convertible featured smooth, clean bodylines with upswept tailfins, integrated bumpers and a windshield that sloped sharply at 56 degrees.