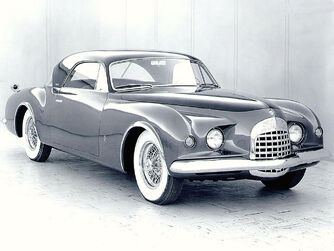 The
Chrysler K-310
was a concept car made by
Ghia
in 1951.
The K-310 was the second Ghia-built Chrysler concept car designed under the watchful eye of company styling director Virgil Exner.
The K-310 was designed to showcase Chrysler's upcoming revolutionary 1951 Hemi V8 engine. In creating the K-310, Exner developed his "pure automobile" design philosophy in which functional elements of the car were featured instead of being disguised. Elements like the wheels, the radiator grille, spare tire storage, taillights, etc.
Prior to the K-310, those features had been hidden. Exner went in a different direction because, as he said, "The wheel is one of mankind's greatest inventions. Why attempt to hide it?" After the success of the K-310, Exner continued to climb the ladder at Chrysler. In 1953 he was named Director of Styling. Then in 1957, he became Chrysler's first Vice President of Styling. In that time, Exner insisted on having complete control of the clay modeling room and final approval of die models.
The "K" stood for then-company president K.T.Keller and the "310" for the alleged horsepower of the 331-cubic-inch hemi-head V8 beneath the hood, though the then-new stock version produced only 180 horsepower.
The K-310's warm reception prompted construction of a soft-top companion called the Chrysler C-200, unveiled in 1952. Also built on a stock Chrysler Saratoga chassis, the C-200 shared the distinctive "gunsight" taillamps that would transfer virtually without change to the 1955-1956 Imperial.
Both the K-310 and C-200 were strongly considered for showroom sale.