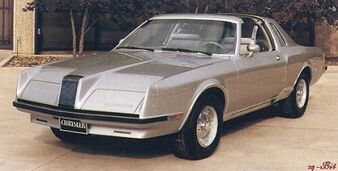 The
Chrysler LeBaron Turbine
is a concept car from 1977.
The car is sometimes referred to as a "LeBaron-based Special," and it clearly shows some styling cues that would later be incorporated into the 1981-1983 Imperial design.
In many ways, this Turbine car looks like a late '70s Dodge Magnum with a "futuristic" '81-'83 Imperial front clip. This design exercise provides an interesting midpoint between the rounded Mopars of the late 1970s and the sharp lines of the '81-'83 Imperials.