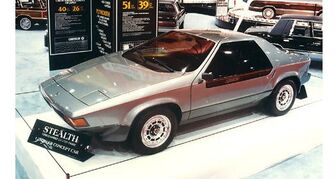 The
Chrysler Stealth
is a front-wheel drive concept car from 1982.
It was a sneak peek at Chrysler's long talked about sports car planned for late 1983, early 1984. Based on the Plymouth TC3 L-body platform, the power was supplied by an experimental turbocharged 2.2-litre four-cylinder teamed with a prototype five-speed manual gearbox.
Notable styling touches included flush window glass, push-out side windows and retractable headlights.