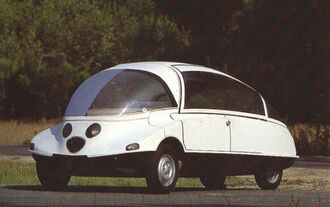 The
C-10 Coccinelle
was a front-wheel drive design concept car from 1956.
It had an ultra lightweight (382 kg), aerodynamic body with DS style wide front track and narrow rear track.
Shaped like a drop of water (tapering in all three planes towards the rear) and employing aircraft construction techniques to ensure low weight, it looked not unlike a flattened, widened Messerschmitt bubble car, even down to the aircraft canopy glasshouse.
The decision was taken to proceed with the "conventional" looking Ami 6.
The Ami 6 was always viewed as a temporary stopgap solution to the chasm between the 2CV and the DS a chasm that was not really filled until the launch of the GS.
Having rejected the Cocinelle, work started on the C-60 project to fill this gap.
Community content is available under
CC-BY-SA
unless otherwise noted.