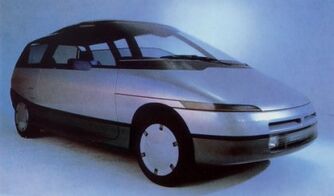 The Citroën Eco 2000 was a concept car built in 1984.
The ECO 2000 was much more than just an exercise in styling. Developed during the period 1981 to 1984, it was used to research economical, low weight, low drag cars intended for the next millenium. Many of the lessons learned were applied to the forthcoming AX. ECO 2000 was part of a 50% French State funded programme to build a car capable of achieving 2 litres per 100 km fuel consumption.
A number of different scale models were built and tested in a wind tunnel resulting eventually in a vehicle with a Cd factor 0,22. Three prototypes were built:- SA 103, SA 109, SA 117 and SL 10 - the definitive version.
SL 10 weighed 450kg and was powered by a three cylinder 750 cc engine developed from Fiat's Fire 1000 developing 35 bhp at 4 750 rpm. The first prototype (SA 103) empoyed a rear mounted twin cylinder engine but subsequent versions had the engine mounted at the front and front wheel drive.
Suspension was hydropneumatic with electronically controlled, speed sensitive ride height.
Top speed was 140 kph and overall fuel consumption at 3.5 litres per 100 km missed the target. However, the car managed 2.1 litres per 100 km at 90 kph while managing to cover the standing kilometre in 40 seconds.
Community content is available under
CC-BY-SA
unless otherwise noted.