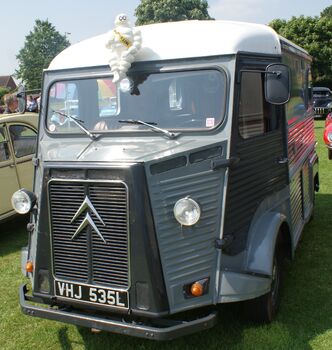 The
Citroën H Van
,
Type H
,
H-Type
or
HY
is a light truck (or delivery van) produced by the French car maker Citroën between 1947 and 1981. It was developed as a simple front wheel driven van after World War II. A total of 473,289 were produced in 34 years in factories in France and Belgium. Most of them were sold in France, Belgium and the Netherlands.
Names
Most Type H were sold as model HY so many people know it only by this name. There were also models H (early ones), HX (lesser load capacity), HZ, and HW (more load capacity). For some time, they were also sold as model 1600.
Technical
The engine, gear box and many smaller parts are well known from other Citroën models: Engine and gearbox are nearly the same as in the Traction Avant and later the DS, only mounted with the engine to front. Head lights and speedometer were identical to the 2CV for a long time.
The distinctive corrugated body work was inspired by German Junkers of the 1930s, (the three engined Junkers Ju 52, being the last to use this construction). The ribs added strength without adding weight, and needed only simple, low cost press tools. The flat body panels were braced on the inside by 'top hat' box sections, at right angles to the ribs.
Other
An H-Type was used as the Broom Waggon in the film version of Belleville Rendez-vous.
An HY was used by the murderer in the French horror movie Haute Tension (High Tension).
The H-Type's most regular and prolific TV/film appearance is in the long-running French drama series 'Louis la Brocante' (1998-present), a sort of Gallic 'Lovejoy', where middle-aged antiques dealer Louis Roman (played by Victor Lanoux) drives an immaculate beige HY.
An H-type appears in the Iain Softley film "Inkheart".
An H-Type ambulance is in Bring Me the Horizon's music video for the song "It Never Ends."
Gallery
Community content is available under
CC-BY-SA
unless otherwise noted.