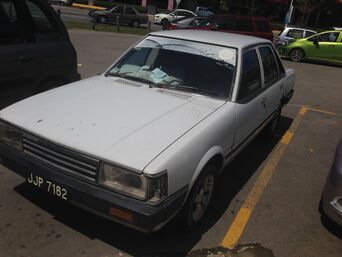 The
Daihatsu Charmant
is a compact sedan built by Daihatsu of Japan, based on the
Toyota Corolla
. It was replaced by the Daihatsu Applause. The Charmant was originally a spin-off of the Toyota Corolla of the 1970s; model changes paralleled those of the Corolla. All Charmants were fitted with Toyota inline-four engines, ranging from 1.3 to 1.6 litres. The word "charmant" is French for charming.
First generation
First presented in November 1974, the A35 Charmants, based on earlier Corollas, were normally equipped with 1,290 cc engines producing 72 PS (SAE) at 5,200 rpm. This type of engines were coded as 4K Toyota engines and came with a four- or five-speed manual transmission, as well as a three-speed automatic option. The 88 PS (SAE) 1,588 cc overhead valve 2T engine was also available from 1978 on; this could also be ordered with a three-speed automatic with overdrive. There was also a 1.4 litre engine available, offering 86 PS (SAE).
Unique to the first generation, a station wagon was also available. This was called "Van" in the Japanese domestic market, where it was classed as a commercial vehicle.
Second generation
Renewed in October 1981, the new squarer bodywork was somewhat outmoded already when being introduced, as was its front-engine, rear-wheel drive layout. The only bodywork available is a four-door sedan. In Japan, the biggest engine was now an OHC 1.5 L (1,453 cc) with 83 PS (61 kW) at 5,600 rpm. In the export, the 1.6 litre 2T engine was also available; power outputs ranged from 76 to 83 PS (56 to 61 kW) depending on compression ratios and intended markets. The smaller 1.3 litre engine produced between 62 and 74 PS (46 and 54 kW) depending on market and so on. Trim levels were LC, LE and LGX; these continued until 1987 when the range was discontinued in the United Kingdom and most other export markets. All the engines were carburetted. In Japan, the most luxurious versions (with available climate control) were called "Altair".
The Charmant had an independent front suspension (struts), and a live four-link rear axle. Suspension settings were soft, for maximum comfort. The car underwent a minor facelift in autumn 1984.
The Daihatsu Charmant was aimed at the small executive saloon car market in Britain in 1980s, competing against hatchback-based saloons including the Ford Orion, Vauxhall Belmont and Rover 200. It also competed against continental offerings such as the Volkswagen Jetta and Fiat Regata. Production ended in late 1987, leaving a gap at the top of Daihatsu's lineup. In 1989, the Applause appeared to fill the Charmant's shoes.