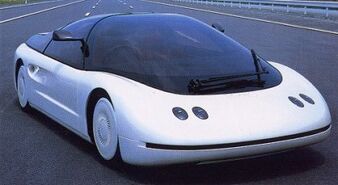 The
Daihatsu's TA-X80
was a two-seat concept car built in 1987.
It was fitted with a 1.0-litre twin-cam 24-valve turbo V6 engine.
The TA-X80 get its name from Technology Advanced eXperimental, and the fact that it marks the 80th anniversary of the Daihatsu company.
The TA-X80 had a bubble top and sliding doors. It was unveiled to the public at the 1987 Tokyo Motor Show.