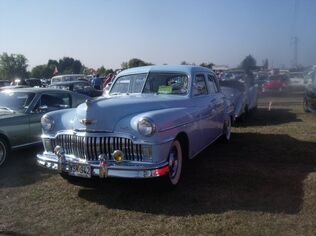 The
DeSoto Custom
is an automobile produced by the Chrysler Corporation and sold under its DeSoto automotive brand from 1946 until the 1952 model year. While in production, the Custom was DeSoto's top-trim level car, and was offered in a wide array of body styles, including a 7-passenger sedan and the extended-wheelbase Suburban sedans.
The Custom shared its engine design with the Deluxe, and were powered by Chrysler's L-head 236.7 six-cylinder engine, delivering 109 bhp (81 kW) at 3,600 rpm.
Custom models, along with Deluxe models, produced during the 1946, 1947, 1948 and first half of the 1949 model years used DeSoto's prewar bodies. A fully redesigned Custom was launched in the second half of 1949, along with a redesigned Deluxe, and these cars are referred to as "1949 Second Series" models.
In 1950, the Custom range gained DeSoto's first consumer-designed station wagon. The Custom also received DeSoto's first hardtop coupe, which featured pillarless door design and which was trimmed to convertible standards.
Customs were unseated as DeSoto's premium model range with the introduction of the V8-powered 1952 Firedome model range of cars. DeSoto terminated both the Deluxe and Custom model names in 1953, with the DeSoto Powermaster line assuming their place in DeSoto's 6-cylinder model range.
Community content is available under
CC-BY-SA
unless otherwise noted.