The
De Tomaso Mangusta
is a sports car from Italian automobile manufacturer De Tomaso produced between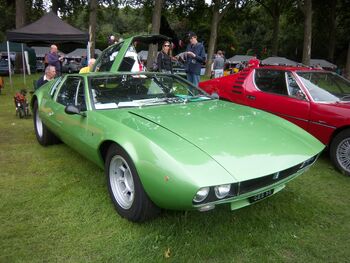 1967 and 1971.
History
The Mangusta replaced the Vallelunga model, on which its chassis was based. The word "Mangusta" is Italian for "Mongoose", an animal that can kill cobras. It was rumored that the car was so named because De Tomaso had some talks with Carroll Shelby to replace Shelby Cobra with a racing car built in Italy by the argentinian ("De Tomaso Sport 5000" a.k.a. "De Tomaso P70"), but no deal was signed since Shelby was involved by Ford into Ford GT40 racing program. Nevertheless, Alessandro DeTomaso and Carroll Shelby were friends and business is business, so it is also rumored that the first handfull of engines for the Mangusta may have come from Shelby. The Mangusta was replaced by the much cheaper to build De Tomaso Pantera in 1971.
401 Mangustas were built, about 150 of the European version, the remainder were NorthAmerican version. Initial cars are claimed to have a more powerful Ford HiPo 289 Cu.In. engine; the later cars all had Ford 302 engines. With the 1970 model USA destined cars were produced with 2 headlamp pop-up, an estimated 50 cars were produced in this configuration. One car was built with a Chevrolet engine for General Motors-Vice President, Bill Mitchell. There are reported to be approx. 250 of the 401 cars left in existence, according to the three available registries.
Specifications
Originally fitted with Ford 289 V8 engine mid-mounted 306 horsepower (228 kW) (Eu version), in the North American market the Mangusta was introduced with a Ford 302 V8 engine 220 horsepower (160 kW), driving through a 5 speed ZF transaxle. Giorgetto Giugiaro designed the car, which is easily recognised by its gull wing doors over the engine and luggage compartment. Disc brakes were standard at all four corners. Four wheel independent suspension, rack & pinion steering, A/C, power windows, were ahead of other manufacturer of the time. Journalist Paul Frere claimed he achieved a top speed of 250 km/h (155 mph).
The Mangusta was relatively inexpensive for the time but, with a 32/68 weight distribution and a less than solid chassis, suffered from stability problems and poor handling. The car was also cramped and had extremely low ground clearance.
Revival
The Mangusta name was revived in the early 2000s when the concept car De Tomaso Biguà became the Qvale Mangusta, after a dispute between De Tomaso and business partner Qvale. The Qvale sold only in limited numbers. It was, however, competitive in the Trans Am Series in the final few years before Trans Am's hiatus.