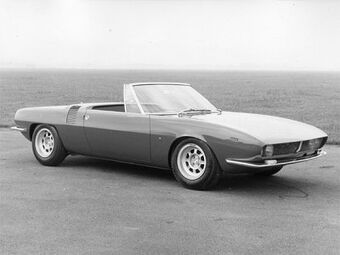 The
De Tomaso Pampero
was a concept car built by Ghia in 1966.
It was named after a special wind that blows across the Argentine Pampas and was in principle a new open version of the Vallelunga, but with slightly different dimensions and a completely new body.
Giugiaro had lengthened the Vallelunga wheelbase by 1.5 cm to 2,350 mm. The chassis was basically unchanged so the heavy spine frame ran from the front suspension back to the 1500 cc Ford engine. The front end of the car looked a bit like that of the Mangusta, but with the twin headlights fitted behind a meshed grille, making them hard to clean. The tail end of the car had much similarity with that of the Fiat 850 spider Giugiaro had designed in his days with Bertone.
Interesting were the two air intakes in the front part of the rear fenders. They did not only serve as vents, but also hid the fuel tank filler cap and the handle for opening the rear end of the car. The dashboard was "V" shaped for easy reading of the instruments.
The Pampero remained a one off and if DeTomaso had decided to put the car in production he would have had a hard time competing against the Fiat 850 Spider.
Community content is available under
CC-BY-SA
unless otherwise noted.