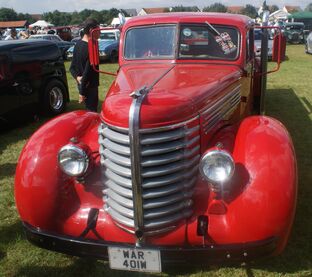 The
Model 201
was a pickup truck made by Diamond T between 1938 and 1949.
The Diamond T Model 201 pickup was also available as an open express body style and a panel delivery van that Diamond T boasted had a 99-inch cargo hold. An X-braced frame mounted an extra-heavy-duty front axle and full-floating rear axle, held by leaf springs at each corner.
It was powered by the Hercules QX-series six-cylinder engine. The engine ran in seven main bearings and was cooled by a gear-driven water pump. It was able to develope 91bhp at 3,200rpm. This transferred power through a Warner T9 four-speed manual gearbox.
The gross weight of the vehicle was 8,000lb, but the bare chassis weighed 2,750lb.
The pickup wasn't cheap and was listing at $1,655. This was about a third more than Ford charged for the half-ton V-8 pickup. Even Ford's F-3 one-tonner undercut Diamond T by more than $200. Unlike most pickups of the time, the Diamond T Model 201 pickup used no car-based components. The pickup featured an unusual rear-window design.
Though prewar Diamond T Model 201 pickups featured a handsome engine-turned dash, electric clock, fancy steering wheel, full-disc hubcaps and soft imitation leather upholstery, postwar models leaned toward the practical. Typical equipment included turn signals, an extra taillight, cab lights, oil filter, and heavy-duty generator.
Gallery