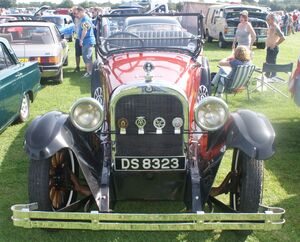 The Dodge 126 was a car built by the Dodge Brothers in Detroit. The car was built as a development of the Dodge 116 and was introduced in July 1925 as a 1926 model year car.
Like its predecessors the car had a side-valve four-cylinder engine with a capacity of 3479cc. The engine had an output of 35bhp (25.7 kW). Power was driven through a multi-plate dry clutch and a three-speed transmission (with floor shift), delivering power the rear wheels. The rear wheels were mechanically braked.
The wheelbase of the chassis was 2946 mm. Again, multiple trim levels were offered: with the standard, there was a two-door roadster, four-door touring car, four-door sedan, two-door coupe with two or four seats and four-door luxury sedan. The same models were available with a Special trim pack which included more features. There was a new variant which was the Deluxe/sports which came in a two-door sports roadster, a two-door sedan or a four-door touring car.
In the 1927 model year, the series was built unchanged. Beginning in January 1927, the car, however renamed the Dodge 124. The Deluxe/Sport version was a convertible and the custom was only as a club coupe with four seats.
The 126 was replaced in July 1927 by the Fast Four. A total of 394,870 cars were made.