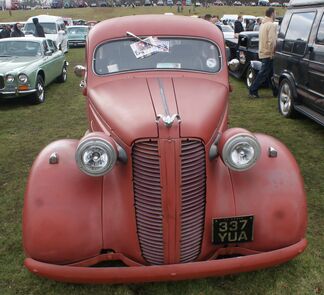 The
Dodge D5 Series
was an automobile made by in Detroit as a successor of the
Dodge Beauty Winner
. It was introduced in October 1936 as a 1937 model year car.
The car had (like its predecessors) a side-valve inline six-cylinder engine with a capacity of 3569cc. The engine produced 87bhp (64 kW) at 3.600rpm. Power was driven through a single dry plate clutch and three-speed transmission delivering power to the rear-wheels. Upon request, a semi-automatic gearbox (automatically actuated by a vacuum clutch) was available.
The D5 series was available with two wheelbases. The on with the highest number of bodies built on it was the 2921 mm wheelbase. The bodies had been revised slightly. The grille had received a center bar and the short chassis had a wheelbase shortened by 25mm. Bodies on the long chassis included a Victoria Convertible with two doors or a Pullman saloon with four doors.
A four-door sedan was offered, each in the "normal" version (with hatchback, but no trunk) and in "Touring model" offered (with hatchback and rear trunk attached). Other bodied offered included a two-door coupe (Business and R/S), as well as a two or four-door convertible on the short chassis. The convertible was available as an R/S Coupe and a two-door convertible was also available with three or six seats. The long chassis was available to those customers who wanted a custom out-of-house body build by a coachbuilder of their choice.
In October 1937, the D5 Series was replaced with the D8 Series.