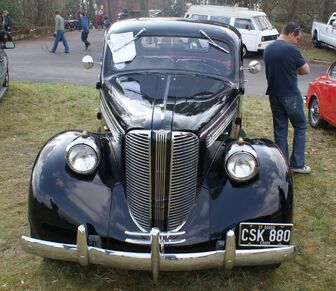 The
Dodge D8 Series
was a car built by Dodge in Detroit, as a successor to the
Dodge D5 Series
. It was introduced in October 1937 as a 1938 model car.
The car had (like its predecessors) a side-valve inline six-cylinder engine with a capacity of 3569cc. The engine produced 87bhp (64 kW) at 3,600rpm. Power was transferred through a single dry plate clutch and a three-speed transmission, delivering power to the rear-wheels. Upon request, a semi-automatic gearbox (powered by a vacuum actuated automatic clutch) was available.
The D8 series was available with two wheelbases. The highest number of bodies were built on the chassis with a 2921mm wheelbase. The seven-passenger touring sedan and five-seater Pullman limousine were built on the 3,353mm wheelbase.
The bodies had been revised slightly. The grille had received a chrome strip along the central web and the entire grille stood upright. bodied available included a two or four-door sedan, each in the "normal" version (with hatchback, but no trunk) and in the "Touring model" offered (with hatchback and rear connected trunk). Other models offered included a two-door coupe (Business and R/S), as well as a two and a four-door convertible on the short chassis. A R/S Coupe and two-door convertible were available with either two or four seats.
The long chassis was available on its own for the customer to order out-of-house coachwork if they wanted to.
In October 1938, the D8 Series was replaced with the model D8 Luxury Liner.
Gallery