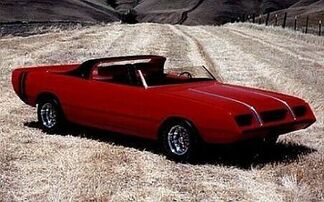 The
Dodge Daroo II
was a concept car customised from a Dart GT Sport hardtop in 1970. The Chrysler-Dodge stylist had wanted a true roadster, so the Daroo II had no top, no door glass, and no backlight. It seemed that practicality had gone out the window. Daroo II was only 42 inches high with a chopped, frameless windshield and featured a 15-inch-wide air foil-molded roll bar that connected via lengthy pillars to the rear deck lid spoiler.
To accentuate the flat, trunkless rear deck, a raised panel with twin competition-style fuel fillers on either side ran the length of the car from the rear window opening back. The power plant for the Daroo II is a 340-cubic-inch, 275 hp V8 engine with single four-barrel carburretion, and dual exhausts.
Daroo II's unusual basic color, "Frosted Fire," is a combination of Artic orange and pearlescent gold fleck. It has high gloss and reflective qualities that command quick attention to the car's overall sportiness.