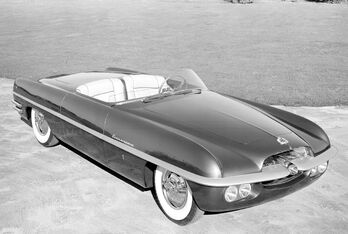 The
Dodge Fire Arrow
I
is a concept car that was made in 1953.
It was a true roadster, being painted red and grey, while the interior was yellow with maroon piping. Wheels were fitted with full wheel covers and white-wall tyres.
The body side molding wrapped all of the way around the car. It has dual headlights and exposed exhaust pipes, two per side, rode low on the car's flanks. A wood-rimmed steering wheel brought an additional touch of Italian style. The car is now on display at Petersen's Museum.