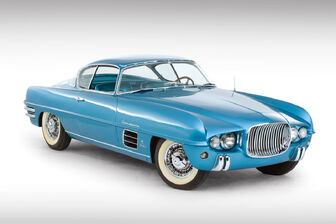 The
Dodge Fire Arrow III
was built in 1954 by
Ghia
.
It was a two-seater sport coupe which looked much like the first Fire Arrow, but was more civilized. It was painted a light metallic blue.
In 1954, it was clocked at 143.44mph at the Chrysler proving grounds with Betty Skelton driving. Dual headlights had returned. Dual headlights were fitted and the car now flanked a concave grille cut with narrow verticals. Crash protection at the front and rear was provided by modest bumperettes. A wraparound backlight gave the Sport Coupe a particularly rakish aspect.
As for the convertible's leather interior, it matched the outside of the car with its light metallic blue colour and white contrasting patches.