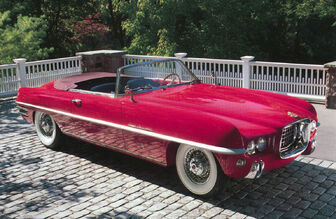 The
Dodge Fire Arrow IV
is a concept car that was built in 1954.
The Dodge Fire Arrow IV, like it's sisters were designed by Chrysler's legendary design chief Virgil Exner and built by Ghia of Turin, Italy.
The Fire Arrow IV was a fully road going convertible with folding top and windows. It was designed and engineered to go into full production. Unfortunately like many concept cars, Chrysler made the decision to not proceed into production with these cars.
The Fire Arrow IV and it's sister cars are the only survivors of the wonderful early series of Chrysler concept cars that were designed as serious, elegant Italian styled sports cars. These would have very easily found a market niche to compete with the Corvette, Thunderbird and several European marquees. They not only are wonderful looking cars, but are powered by the legendary Hemi engine and a pleasure to drive.
The car was a bright red convertible four-seater with black and white diamond interior. It looked most like a convertible version of the first Firearrow. The is now black with a black and white "Rock'n Roll" interior.
Two convertible Dodge Firearrow concept cars were sold at the 36th Annual Barrett-Jackson Collector Car Event in Scottsdale, Ariz. They now reside in the Blackhawk Automotive Museum.