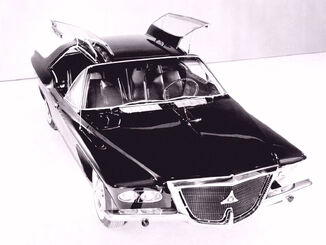 The
Dodge Flite-Wing
was a concept car built by Dodge in 1961. he Flite-Wing was unveiled in New York's Central Park on Dec. 5, 1961.
One of the Flitewing's outstanding features was its flip-up windows, in place of conventional roll-down glass.
When the door was opened, a window-roof canopy automatically cantilevered upward, and vice versa. Inside, the speedometer was made up of 13 individual elliptical windows, which replaced the conventional setup of dials.
Back then, unlike many car manufacturers, most Chrysler dream machines were built with engines and drivetrains-actual runners. The car had a ram-air-inducted 330-hp 383-cu-in. wedge V-8.