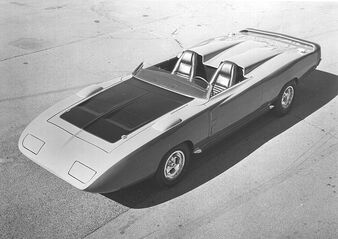 The
Dodge Super Charger
was a concept car built in 1970 which was based on the 1968
Dodge Topless Charger
/
The Super Charger was designed by Dodge stylist and built by George Busti of Creative Customs in Detroit. The Super Charger had a strong platform on which the stylist could make cosmetic changes.
New for 1970 was the introduction of tapered nose cone and functional air scoops on top of both fenders, which were borrowed from the Dodge Charger Daytona. Engine cooling was increased by adding two sets of vacuum operated louvers in the hood. The rear deck lid now incorporated an adjustable air spoiler. The driver was able to electronically operate the rear fin for increased rear down force.
The Super Charger's new paint scheme included seven coats of "Fire Orange" paint with non glare black accents. The interior was simply changed to current 1970 standard Charger. The black trimmed interior included fully padded high back bucket seats.