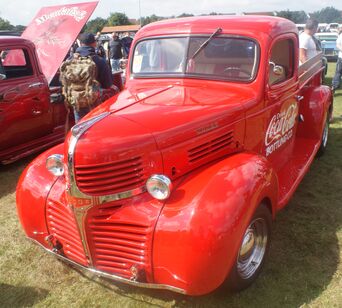 The Dodge WC Pickup was a pickup truck built by Dodge after the Second World War between the years 1946 and 1948.
Though its looks dated to before the war, the Dodge WC Pickup was solidly constructed and powerful for its day.
This prewar styling generation was initially called the T-series. It spanned a wide range of bodies, wheelbases and payloads, from the half-ton TC pickup which had a 116-inch wheelbase.
Although it's looks lagged behind contemporary Dodge car design, they were interesting in contrast to the car's curved-nose look. Features included a barrel-shaped grille, crowned front fenders, and free-standing headlamps mounted in bullet-shaped pods.
These Dodge trucks enjoyed some popularity just before the war, and the last of them built in 1942, before Dodge turned to military production, were renamed the W-Series.
When they resumed sales as the 1946 Dodge WC pickup, Dodge fitted a more powerful six cylinder 95hp engine under the hood. The body didn't look very different to the TC Series but it was more colorful. It available in black, green, orange, red, grey, and two shades of blue.
Post-war trucks also were more expensive than the pre-war counterparts. Even at $925 the 1946 Dodge WC pickup was $120 cheaper than a comparable Ford and some $300 below Dodge's least costly car.
Extra-cost equipment included a larger clutch, a four-speed transmission, oversize tires, electric driver's wiper, heater, chrome windshield frame, adjustable visor, driver's armrest, dome light, turn signals, "airfoam" seat with leather upholstery, and --- real luxury this -- an AM radio.
Still, if Chevrolet's early postwar trucks looked dated, the 1946 Dodge WC pickup looked positively ancient.
Gallery