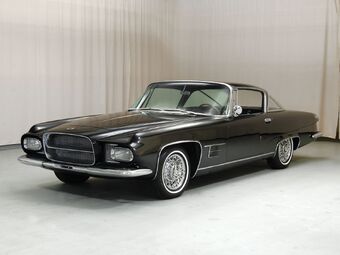 The
Ghia L6.4
, sometimes referred to as the
Dual-Ghia L.64
, is a two-door coupe manufactured by the American automaker Dual in 1962 and designed by coachbuilder
Carrozzeria Ghia
. Only 26 examples of this car were manufactured.
This Italian-assembled vehicle was inspired by the Ghia Dart and built using Chrysler components and an ovular grille. It was fitted with a 6277cc OHV V8 engine and was capable of generating 335 bhp at 4600 rpm. The L6.4 rode on a wheelbase of 115 inches, measured 210 inches in length, and weighed approximately 4200 pounds.
It was sold for a costly price of US$13,500 (about 102,732 2012dollars) in 1962, and a handful of famous individuals, including Frank Sinatra, Lucille Ball, and Dean Martin, owned an example of this car.