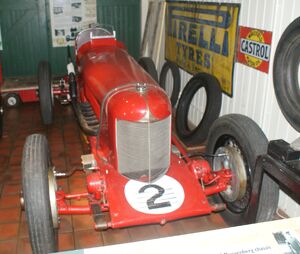 In 1927 Duesenberg built 7 racecars that were used race on race tracks in the United States. These would become to be known as the Duesenberg Single Seaters.
It originally had a 1.5 litre Duesenberg engine but this was replaces for 4¼-litre Clemons engine for Count Carlo Felice Trossi, President of the Scuderia, who ordered the Duesenberg to compete in European races after Alfa Romeo pulled out of their racing partnership.
The car was shipped to Italy in August 1933 and painted Ferrari red with the prancing horse emblazoned and entered for the Monza Grand Prix but retired with engine failure while running strongly in 2nd place. In the first heat it ran strongly in second place close to Count Czaykowski's Type 54 Bugatti, but on lap 7 there was a cloud of smoke from the exhaust and it retired with water running out of the exhaust pipe.
The car was repaired by Scuderia Ferrari but not raced again by them. It was then purchased by British racing driver Whitney Straight in 1934.
He brought it to Brooklands for an assault on the Outer Circuit with the goal of beating the track record. He recorded a lap speed of 138.15mph just short of the unlimited record of the 27 litre Napier-Railton (140.93) but gained the class C (up to 5000cc) record.
Three other car managed to break this speed in 1939 meaning that the Duesenburg Single Seater remains the fifth fastest car ever to have lapped Brooklands.
The car was then sold in 1935 and purchased by J.L.Duller who continued racing the car at Brooklands between 1935-39. During this time his driver was Dick Seaman the British Mercedes Grand Prix driver.
The car was not raced again after WWII but was owned by the esteemed Motor Racing journalist Denis Jenkinson from 1950. He bequeathed the car to Brooklands Museum where it still resides today. It is the only survivor of the original seven.