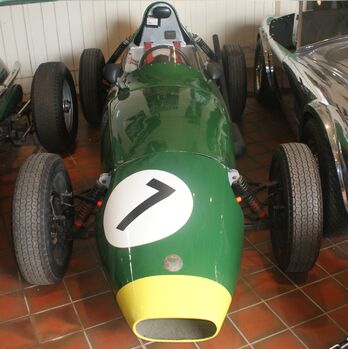 The 100 was a Formula Juniour car built by Elva.
Launched in 1958 as a replacement for the 500cc F3 cars and was created by Frank Nichols of the United Kingdom.
He adapted the very capable racer with a BMC A-Series engine. Some versions were given a two-stroke DKW engine specially tuned by Gerhard Mitter of Germany. This was the first mass-produced Formula Junior racer from Britain. Other marques soon followed such as Lotus with their impressive Lotus 18 F1/F2 car.
During this time in the late 1950's, it was still popular to have the engine mounted in the front of the vehicle.
Many top drivers claimed stardom behind the wheel of a 100 including Jim Clark, John Surtees and Jochen Rindt.
Thanks to their robust nature and the stalwart support of people like Formula Junior Racing Association (FJRA) Co-ordinator Duncan Rabagliati, FJs nowadays days star at such blue riband events as the Goodwood Revival and Silverstone Classic.