The Enterra Vipre is an out-of-production Canadian sports car.
History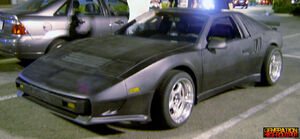 In the mid-1980s, Enterra Technologies Ltd. allegedly received C$8 to 10 million loan guarantees and tax credits from the Canadian government's Scientific Research Council. This money was to be used to build a manufacturing facility in Burnaby, British Columbia, to produce the
Vipre
.
Our research shows only 36 cars built in Canada. Of these, most were sold into the United States. The Vipre was only to be sold through General Motors (GM) dealerships as an option known as the Enterra Style package on a Pontiac Fiero SE. GM, in agreement with this plan, was then to cover the regular warranty, with an additional warranty for the body and interior through Enterra.
There are discrepancies in the numbers sold. Some evidence points towards several incomplete cars (the number eight has come up several times from former employees interviewed) being left over when the company folded in late 1987, so the total number of cars built is in question.
The car was offered only as an option on a new Fiero and never as a kit, for fear it would lose its advantage over kit cars in the process.
The first set of body molds were used until late 1986. There were minor fitting problems with the first set so in late 1986 a new, better-fitting set of molds was created for the last year the company remained in business. The molds for the body were then sold to a Californian company that re-formed the molds and two more cars were built before that company also went out of business, after which the molds apparently disappeared.
Installation
These cars were built on fully loaded V6-powered Fiero SE. The cars were stripped of the bodies and interiors and the sleek body and custom interiors installed. They only came in 4 colors: red; black; gunmetal gray; and white. The paint of choice was Sikkens. All suspension, drivetrain, braking system, and cooling system components remained stock, Fiero.
Community content is available under
CC-BY-SA
unless otherwise noted.