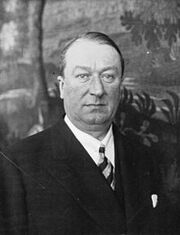 Ettore Arco Isidoro Bugatti (15 September 1881, Milan – 21 August 1947, Paris) was an Italian-born and French naturalized citizen automobile designer and manufacturer.
Family
Ettore was from a notably artistic family with its origin in Milan. He was the elder son of Carlo Bugatti (1856–1940), an important Art Nouveau furniture and jewelry designer, and his wife Teresa Lorioli. His younger brother was a renowned animal sculptor, Rembrandt Bugatti (1884–1916). His aunt, Luigia Bugatti, was the wife of the painter Giovanni Segantini. His paternal grandfather, Giovanni Luigi Bugatti, was an architect and sculptor.
Early career
Before founding his Bugatti automobile company, Ettore designed a number of engines and vehicles for others. Prinetti & Stucchi produced his 1898 Type 1. From 1902 through 1904, Dietrich built his Type 3/4 and Type 5/6/7 with the Dietrich-Bugatti marque. In 1907, Bugatti became employed with the Deutz Gasmotoren Fabrik, designing the Type 8/9.
Bugatti developed the Type 2 (in 1900 and 1901), and the 1903 Type 5. While at Deutz, Bugatti built his Type 10 in the basement of his home. In 1913, Bugatti designed a small car for Peugeot, the Type 19 Bébé.
Company operations
Although born in Italy, Bugatti established his eponymous automobile company at Molsheim in the Alsace region. The company was known for the advanced engineering of its premium road cars and its success in early Grand Prix motor racing, a Bugatti winning the first Monaco Grand Prix.
While displaced from his home in Alsace by WWI, Bugatti designed airplane engines, notably the somewhat baroque 16-cylinder U-16 which was never built in any large number and only installed in some very few aircraft.Between the wars Ettore Bugatti designed a successful motorized railcar dubbed the Autorail Bugatti, and an airplane, the Model 100, though this was never flown. His son, Jean Bugatti, was killed on 11 August 1939 at the age of 30 while testing a Bugatti Type 57 tank-bodied race car near the Molsheim factory. After that, the company's fortunes began to decline. WWII ruined the factory in Molsheim, and the company lost control of the property. During the war, Bugatti planned a new factory at Levallois in Paris and designed a series of new cars.
Customer relations
Bugatti's concept of customer relations was somewhat eccentric. To a Bugatti owner who complained that his car was difficult to start on cold mornings, he is said to have retorted, "Sir! If you can afford a Type 35, you can surely afford a heated garage!"