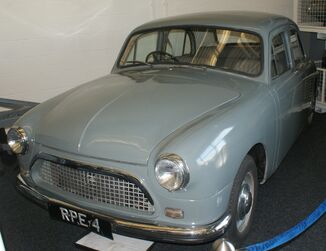 The Ferguson R4 Prototype is a car that was built in 1952 to help test a four-wheel drive (FWD) system.
Harry Ferguson began to develop a four wheel drive system for motorcars in the 1950s, from a factory in Siskin Drive, Baginton, on the outskirts of Coventry.
The system he developed became known as the Ferguson Formula and was used on police cars, racing cars and on the Jensen FF.
The R4 is one of the prototype vehicles that was built to test the system. It features a 2.2 litre four-cylinder engine, independent suspension and Dunlop disc brakes all round which use a Maxaret anti-locking system.
The vehicle was purchased by the Coventry Transport Museum in 1976 where it on display.