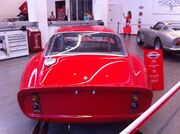 The Ferrari 250 GTO was GT car which was produce by Italian automaker, Ferrari, from 1962-1964. It is noted as one of the greatest ferraris of all time.
Design and Development
Even though mainly designed for GT Racing, there was a number of road cars. It was also based on the 250 GT SWB.
The 250 GTO had a 3.0 L V12 Engine, which was tooken from the 250 Testa Rossa and chassis from the 250 GT SWB. After most Ferrari engineers had been fired after a dispute with Enzo Ferrari, development was handed to Mauro Forghieri who worked with Scaglietti to continue making the car.
The car had a hand-welded tube frame, A-arm front suspension, live axle rear end, disc brakes, and a pair of Borrani wire wheels. Porshe designed the 5-speed gearbox which was new to Ferrari GT cars.
Collectibility
In late 70s to the late 80s, the price for the car rose up rapidly. A deceased drug dealer had purchased the car for $250,000 in 1982. A Japanese buyer bought it for $14.6 million plus commission. By 1994, the price was about $3.5 million. In 2008, a British buyer bought a 250 GTO at an auction for a record $15.7 million. The newest purchased reported was in May 2010, when a BBC Radio DJ Chris Evans, bought a 4675 GT for $12 milion.
Community content is available under
CC-BY-SA
unless otherwise noted.