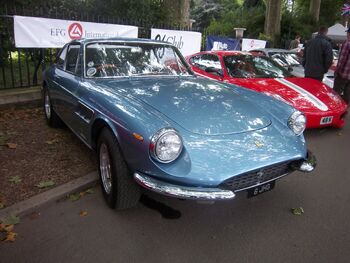 The
Ferrari 365
is Ferrari's large FR layout grand tourer and 2+2 line. Introduced at the 1966 Geneva Motor Show, it replaced the 330 and 500 Superfast. Featuring evolutionary Pininfarina styling, it is nevertheless often overshadowed by its famous successor, the sharp-creased 365 GTB/4 "Daytona".
365 California
The 365 California replaced the 500 Superfast for 1966. It was the first 365 model, with its 4.4 L (4390 cc/267 in³) V12 based on the 330's 4.0 L Colombo unit but with an 81 mm bore. The 365 California used the same chassis as the 500 Superfast but with an evolutionary cabriolet body by Pininfarina. Debuting at the Geneva Motor Show in 1966, just 14 examples were produced (including 2 in right hand drive) before production ended in 1967.
On 28 June 2005, a pristine 365 California sold for €736,000 (US$890,000).
365 GT 2+2
The most popular rounded 365 model was 1968's 365 GT 2+2. As the name implies, it was a four-seat coupe, replacing the 330 GT 2+2. Like the car it replaced, the GT 2+2 had an independent suspension in the rear rather than the live axle of the 365 California.
The 365 GT 2+2 was a luxurious car with leather seats, power steering and brakes, electric windows, and optional air conditioning. It quickly became the company's top-selling model with about 800 produced in four years, 52 of which were right hand drive.
365 GTC
The 330 GTC was replaced in 1968 by the 365 GTC. It was essentially just a re-engine of the 330 GTC, with even the styling remaining almost the same. Differences were limited to non-vented front fenders and a vented hood.
Integrating the gearbox with the final drive gave the car a balanced 50:50 weight distribution. The 365 GTC retained the independent rear suspension, employing coil springs and wishbones, of its immediate predecessor, though this was a relatively recent departure for Ferrari. Stopping power came from servo-assisted disc brakes all-round with a split circuit system.
150 examples were built (including 22 in right hand drive) between the 1968 and 1970. It was replaced by the Ferrari 365 GTC/4.
365 GTS
Like the 330 GTC, the 330 GTS was replaced in 1968 by the 365 GTS. Again a simple re-engine job, this Spider featured the same styling changes as the coupe. Just 20 were built before its place was assumed by the 365 GTB/4-based Daytona Spider.
Gallery
Community content is available under
CC-BY-SA
unless otherwise noted.