The Ferrari 365 GTC/4
was a 2+2 sports car produced from 1971 until 1972. It was based on the chassis of the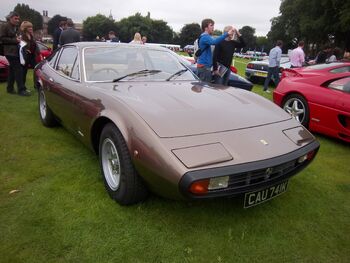 Ferrari 365GTB/4 Daytona.
365 GTC/4
Although not generally recognized as a true "Daytona", the 1971 365 GTC/4 used the same chassis. Its coupe bodywork by Pininfarina enclosed four seats, making it a successor to the 2+2 330 GT and 365 GT. However, the rear seats are small and the rear window slanted, so it can also be seen as the successor to the two-seat 365 GTC. 500 examples of the GTC/4 were produced in two years.

The GTC/4 rode on the same wheelbase and suspension as the Daytona, though the engine was down in power a bit to 340 bhp DIN (250 kW), as well as it having an engine-mounted gearbox instead of the axle-mounted (transaxle) gearbox in the Daytona. This car was seen in Herbie Goes to Monte Carlo. It was painted a very dark shade of green with a black numeral 70 against an off-white square background. In 2008/2009 a GTC/4 was used in a series of Hugo Boss advertisement posters. The 365 GTC/4 represents one of the best deals available on a front engine 1970's era V12 powered Ferrari, offering performance much like the 365 GTB/4 Daytona for a fraction of the price.