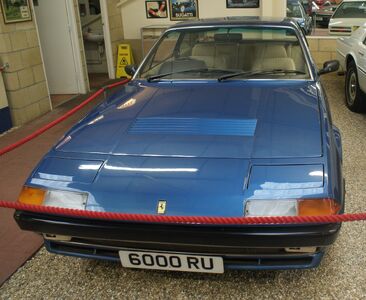 The
Ferrari 400
and Ferrari 412 are front-engined 2+2 coupé cars from Italian manufacturer Ferrari. They were available with 5-speed all synchromesh or an optional 3-speed automatic transmission unit from General Motors. Their design was derived from the almost identical looking 365 GT4 2+2 (which itself was based on the famous Daytona). Production began in 1976, when Ferrari revealed its first car fitted with an automatic transmission - the 400 - at the Paris Motorshow of 1976. With the improved 412 introduced in 1985 it was phased out in 1989. Today, its sleek, Pininfarina-designed lines and relatively limited production numbers may give it potential as a future classic. It has not been universally admired however, and is listed at #18 in the BBC's book of "Crap Cars", sandwiched between the Daihatsu Applause and the Austin Ambassador and Jeremy Clarkson on Top Gear described it as "awful in every way".
Although the incorporation of an automatic transmission, and U.S. emissions compliance, indicate it may have been designed for the American market, no version of the 400 series was ever officially imported to the USA. Despite this, many have been brought to America as gray imports, where the car enjoyed a limited popularity with movie stars, such as Sammy Davis Jr.
400 (Automatic) & 400 GT
The 400 Automatic or 400A used the General Motors Turbo-Hydramatic THM400 automatic transmission, whilst the 400 GT used a 5-speed all synchromesh transmission. This was the first Ferrari to have an automatic transmission.
The engine, based on the Daytona's 4,390 cc (4.39 L; 268 cu in), was a 4,823 cc (4.823 L; 294.3 cu in) V12 producing 340 PS (250 kW); front mounted and driving the rear wheels, the traditional GT car layout allowed Ferrari to fit four seats into the stylish coupé. 0-60 mph was 7.1 seconds.
400i & 400i GT
The carburetors on the 400 were replaced with Bosch K-Jetronic fuel injection for 1979. As in the smaller 308i, power was down substantially, to 310 PS (228 kW), but emissions were much improved.
412 & 412 GT
The 400 was improved for 1985 with an increase in displacement to 4,943 cc (4.943 L; 301.6 cu in) and a restoration of the original car's 340 PS (250 kW). ABS was offered for the first time on a Ferrari; the manual and automatic transmissions were both retained.
Production was stopped in 1989 with only the mid-engined Mondial offering 2+2 seating. The classic front-engine layout returned in 1992 with the 456.
Gallery
Community content is available under
CC-BY-SA
unless otherwise noted.