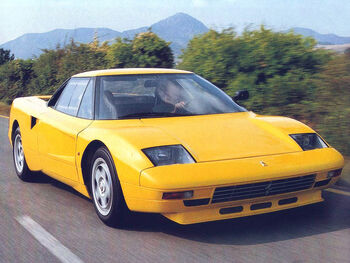 The
Ferrari 408 Intergrale
were a pair of concept cars built in 1987 by I.D.E.A.
Back in 1987 Ferrari decided to experiment with a more complex AWD layout for their supercars. The car they used to test their new system was this, the Ferrari 408 Integrale although some call it the 408 RM4. Only two examples of the 408 Integrale were ever made, one was finished in bright yellow, the other in traditional Ferrari red. The aluminium-bodied cars were constructed using the help of aluminium-specialists Alcan, who wanted to use the car to showcase their new method of using bonded and stamped aluminium panels which incorporated structural adhesives.
The Ferrari 408 Integrale's chassis (Integrale translates from Italian as Integral) was formed from a mixture of stainless steel and aluminium. It was strong, stiff and light – which is just what you want from a chassis. It wasn't until the Ferrari 360 appeared 12 years later that Ferrari adopted a similar aluminium chassis. Powering the Ferrari 408 Integrale was a 4.0 litre V8 which produced 300 horsepower. The engine was mounted so that the transmission pointed forward from the engine, making it easier to transfer the power to all four wheels.
The Ferrari 408 Integrale's styling came courtesy of the Italian design and coachbuilding firm Carrozzeria Scaglietti. And to be fair it isn't one of the best looking Ferrari's ever made. However Ferrari probably wasn't all that concerned with how the 408 Integrale looked, as they were more interested in how the 4-wheel-drive layout and 4-wheel-steering system performed. There isn't any hard data on the car's performance, but it can't have been too impressive because the car never spawned a 4WD production model.
Community content is available under
CC-BY-SA
unless otherwise noted.