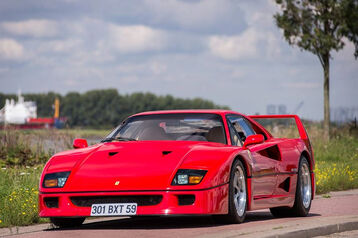 The Ferrari F40 is a mid-engine, RWD (rear wheel drive), two door coupe sports car. It was produced by Italian automobile manufacturer Ferrari, and was in production from 1987 to 1992.
Overview
The F40 was admitted to be the 288 GTO's succesor and to compete with the Lamborghini Countach and Porsche 959. For Ferrari, the F40 was a major statement piece and accomplishement. Years prior to the creation to the F40, Ferraris dominance in racing had significantly gone down,even in F1 (which they had dominated many years before). Enzo Ferrari (Founder of Ferrari) had just turned 90 years old and new that his time was short. He wanted his new sports car to be his final goodbye statement, a vehicle that would have the best-in track technology and an advanced car that Ferrari engineers were willing and capable to create. Plus it was Ferraris 40th anniversary, so this was the perfect time to debut the car.
It was the last produciton Ferrari car supervised by Enzo Ferrari before his death and the first production Ferrari with turbo chargers.
Development
As early as 1984, the Ferrari factory had begun development of an evolution model of the 288 GTO, made to compete with Porshe 959 in FIA's GT Group B category. However, in the 1986 FIA GT Year, the FIA canceled the Group B category, so Enzo was left with 5 288 GTO Evelousionazied development cars, and no series to join. So his desire lead to make specialized road versions of the car.
The Power of this car came from an enlarged, 2.9 version of the GTOs IHI Turbocharged V8. The Suspension is similar to the GTOs double wishbone con cept.
Peformance
The F40 is 1,100 kg (2,425 lb) and has power output of 478 PS (352 kW=471 hp) and at 7000 rpm, it gives the vehicle amazing performance potential. Road test have produced 0-100 km/h(0-62 MPH) times a low as 3.8 seconds, while the auto racing version produced as low as 3.2 seconds. With 0-160 km/h(0-99 MPH) in 7.6 seconds and 0-200 km/h(0-120 mph) in 11 seconds giving the F40 a slight advantage over the Ferrari 959.
Gallery
Community content is available under
CC-BY-SA
unless otherwise noted.