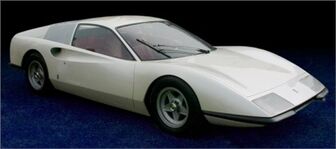 The Ferrari P6 is a concept car that was designed by Pininfarina and first shown to the public at the Turin Motor Show in 1968.
The car was to feature a mid-mounted 3-litre V12 engine that was able to produce 500bhp, though the prototype was only a rolling chassis. The car would have also have featured rear-wheel drive
The car design was to form the basis of the Ferrari 365 BB first shown in 1971.