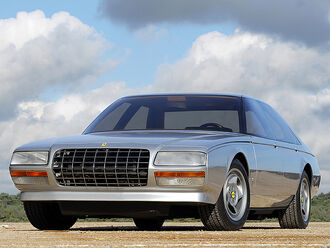 The
Ferrari Pinin
is a concept car designed by Pininfarina for Ferrari in 1980.
The Pinin was the first and only four-door vehicle in the history of Ferrari. It was built to commemorate the 50th anniversary of Pininfarina as well as to pay homage to its historical founder, Joseph Battista Farina.
The car's styling was created by designer Piero Ottina, under the direction of Leonardo Fioravanti, former head of other projects for Ferrari, including the Daytona.
The body has a futuristic design, characterised by clean lines and a muscular look. The interior is in beige leather. To make the car more comfortable new electric seat adjustment equipment was installed. A second stereo equipped with headphones was available to the rear passengers.
Initially the car was a prototype without an engine. Later on, Mauro Forghieri mounted the engine of the Ferrari 512 BB (a 5.0-litre V12 boxer) equipped with Weber carburettors. The engine had a twin overhead camshaft and four valves per cylinder. The engine produced 365 hp and the Pinin was fitted with a 5-speed manual gearbox. The brakes, fuel tank and the suspension were made ​​specifically for the concept.
Community content is available under
CC-BY-SA
unless otherwise noted.