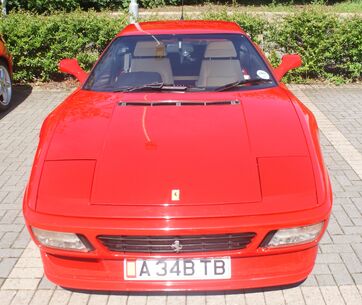 The Ferrari Testarossa is a 12-cylinder mid-engined sports car made by Ferrari, which went into production in 1984 as the successor to the Ferrari 512 Berlinetta Boxer. The Pininfarina-designed car was radically wide at 1976 mm (77.8 in) and low at just 1135 mm (44.7 in) high.
It should not be confused with the Ferrari TR "Testa Rossas" of the late 1950s and early 1960s. These were GT sports cars that ran in the World Sportscar Championship, including the 24 Hours of Le Mans.
Testarossa
The Testarossa name, which, in Italian means "red head", comes from the red-painted cylinder heads on the flat-12 engine. The engine was technically a 180° V engine, since it shared flat-plane crankshaft pins with opposing cylinders. Output was 390 hp (291 kW), and the car won many comparison tests and admirers - it was featured on the cover of Road & Track magazine nine times in just five years. Almost 10,000 Testarossas, 512TRs, and 512Ms were produced, making it one of the most common Ferrari models, despite its high price and exotic design. In 1985, the Testarossa retailed for about $94,000 ($176,032 in 2006 dollars) in the United States. This included a $2,700 (i.e., $5,100) "gas-guzzler" tax.
The car's roots may be traced back to the 512 BBi of 1981. Both shared the same basic platform, though the Testarossa added coilover shocks to the double wishbones at the rear. The engine was similar, too, though it now featured 4 valves per cylinder. One significant mechanical difference was the radiator: the 512 BB featured a single radiator in the nose, while the Testarossa used a pair of smaller units on each side in front of the rear wheels. This necessitated the distinctive side-mounted air intakes and strakes, as well as the wide body.
Although successful on the road, the Testarossa did not appear on race tracks, unlike the 512BBi, which had done so with minor success.
Gallery
Community content is available under
CC-BY-SA
unless otherwise noted.